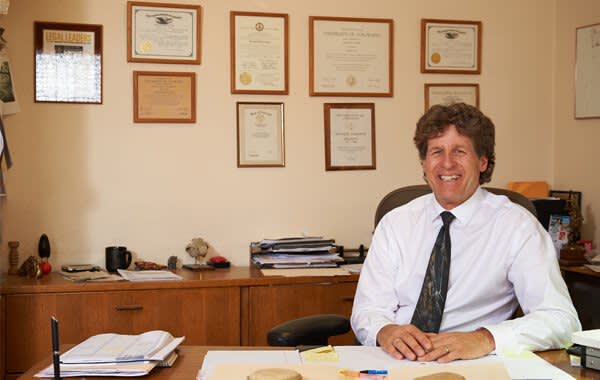 Education:
University of Colorado at Boulder, B.A., Cum Laude, International Affairs, 1978; University of Colorado at Boulder, J.D., 1982.
Practice Areas:
Criminal Defense: Drug Offenses of all types, DUI, Domestic Violence Cases, Assaults, Theft, Embezzlement, Fraud, CU Disciplinary Hearings, Personal Injury Cases, Civil Litigation of all types (individuals vs. individuals or businesses vs businesses, etc.)
Membership:
Boulder County (Member, Board of Directors, 1988-1991, 1993-1997; President, 1995-1996); Colorado (Member, Board of Governors, 1991-1993, 1997-2002) and American Bar Associations; Colorado Criminal Defense Bar; National Association of Criminal Defense Lawyers; International Criminal Bar Association; Association of International Criminal Defense Attorneys. Admissions: 1982, Colorado; 1983, U.S. District Court, District of Colorado and U.S. Court of Appeals, Tenth Circuit.
Reported Cases:
Orr v People, 803 P.2d 509 (Colo. 1991). Accolades: Martindale-Hubbell list of preeminent lawyers; 5280 Super Lawyer List (voted by other lawyers in the community); Law Q & A Award. Community Service: Dave has spent numerous hours giving back to the community by providing pro-bono work for the homeless and serving on non-profit organization boards
Biography:
Dave Harrison practices law in the areas of criminal defense, personal injury and general civil litigation. Dave received his law degree from the University of Colorado Law School in 1982. With the main focus on criminal defense, his cases range from DUI and traffic cases to large marijuana cultivation cases, to possession and sale of drug allegations, to serious assaults (including allegations of "domestic violence") and all other serious felony cases.
Dave has also handled some off-beat and interesting cases. One involved a nearby town trying to have a cryonically frozen deceased person removed from town limits. Another instance revolved around some basketball playing home schooled students who were being excluded from playing varsity basketball for their chosen high school. Dave has trained to handle cases before the International Criminal Court in the Hague and is a member of the International Criminal Bar and the International Criminal Defense Attorneys Association.
Dave is a past president of the Boulder County Bar Association (1995-96) and a past representative on the Board of Governors of the Colorado Bar Association. Currently, he is a member of the Colorado Criminal Defense Bar and National Association of Criminal Defense Lawyers. He belongs to the Boulder County Bar, Colorado Bar, American Bar Associations and the International Criminal Bar.
Contact Information:
Email: dave@millerandharrison.com
Phone: 303-588-7782